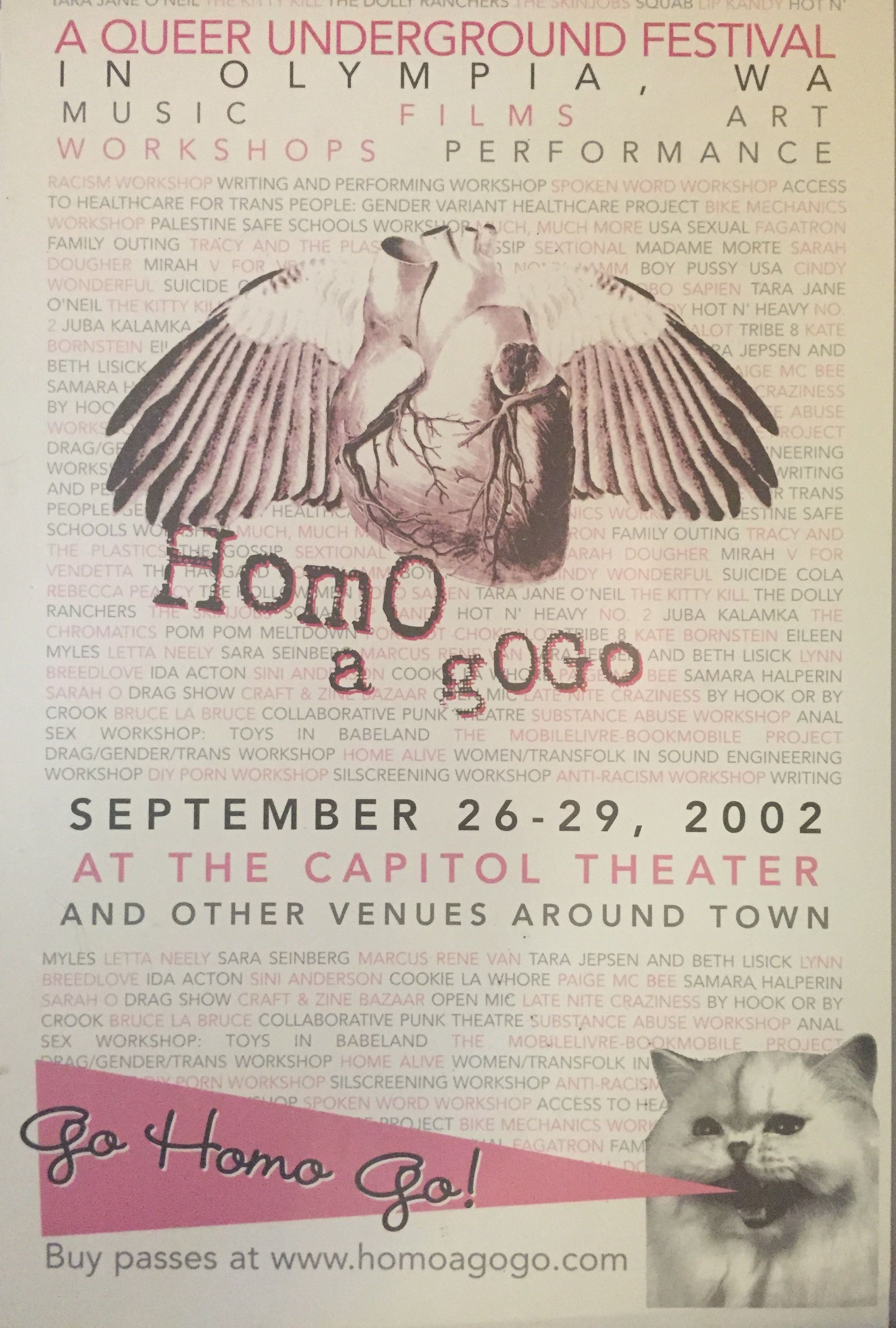 We just passed the 20th anniversary of Homo A Go Go!  Crazy!  The first festival was  September 26-29, 2002 in Olympia.  It feels like a lifetime ago sometimes and yet it's hard to believe it's been 20 years.  I really wanted to do something for the anniversary.  About a year ago I started bouncing some ideas around with Jerry Lee, Corrie, Tara, Johannah, Seinberg, Ponyboy and a few others.  COVID uncertainty, indecision about what to do and where to do it, life, school and everything in-between meant that the anniversary passed in a most unceremonious way.  I'm sad about that.  For years, I mourned the festival coming to an end with our last event in 2009 in San Francisco.  I'm also so incredibly proud of what we did in 2002, 2004, 2006 and 2009.   We presented four installments of the festival, each one featuring 4-6 days with over 50 bands, dozens of writers and other performers, over 100 films, workshops, visual art exhibits, a craft fair and fashion show.  We did it all without any corporate sponsorship and very few donations and grants.  Full passes were only $55-70!    
I wrote in my welcome letter in the 2006 festival guide, "To me, the greatest moments of this festival are the spontaneous ones, the energy, the collision of our program with people... That's the thing I love most about this festival: we try to give you a reason to be here and you show up, I mean you REALLY show up, and that gives us a reason to keep coming back."  I have a lot of amazing, fuzzy, memories of those magical moments: the 2002 spontaneous dance party in the street while it poured, in 2004 I watched 1000 queers packed into the Capitol Theater singing along to "Closer To Fine," and a couple nights later we all went out of our minds when Team Dresch took the stage for the first time in 8ish years, in 2006 Vaginal Davis and John Cameron Mitchell spontaneously killed time when we had a technical hiccup, coaxing a festival goer to demonstrate their stand to pee device on stage and of course the sets by our favorite "house band" in 2002-2006, The Gossip.  There's so many more and I hope you all have your own favorites. 
I'd still like to have an event, some sort of reunion.  This was the question I had a hard time answering, what would such an event be?  A nostalgic throwback?  I whole new and updated event?  A small gathering of people who worked on the festivals?   An informal reunion of some sort?  Besides an event, I am looking for the best home to archive some of the ephemeral from the festival in hopes that Homo A Go Go will live on in queercore history.   I'd like to restore the websites from each year and have them online (although you can find them via the Wayback Machine).  We have live recordings from 2002, 2004, 2006 that we've never done anything with.  We don't have a lot of video, unfortunately.  I'd like to find a way to collect your memories and anything you might have and want to clean out of your closet or garage for the archival project.  I've thought about reprinting the Gay Humping and the dirty bunny t-shirts.  All of that keeps getting put on the back burner and I keep hoping for the time and resources to do it.  For now, I'd be happy to collect anything you want to donate, flyers, photos, videos, an audio or video recording (or a written version) of you recounting your own favorite memory.  Please message me if you have physical or digital souvenirs that I could put in the archives.  I'll happily take suggestions for archive locations, archival resources, a reunion event in the comments.  Memories are fun too!  I'd like to set up a more formal way to collect them but for now feel free to post.    
There's literally hundreds of people who volunteered so much time and energy to help make each festival happen as well as the artists who performed or presented their work and the venues who hosted us.  I want to thank you all for being a part of that magic.  I'm afraid to start listing names because I'll miss someone but I do want to say a huge thanks to several people who were core organizers/staff for at least one festival installment: Sara Seinberg, Jerry Lee, Tara Perkins, Johannah Goldstein, Corrie Bennett, Ponyboy, Beth Stinson, Teresa Carmody, Kolmel with Love, Team on Time (Alex, Tammy, Faith and Jerry),  Celeste Chan, Bridget Irish, Blake Martinez, Elliat Graney-Sauke, Will Williams, Max Cohen, Lisa Ganser, Dreamy Sea, Mordecai, Matthew Mullinix, Andy Duarte, Hillary Johnson, Anna Jacobsen-Leong, Colleen Dixon, Erika Beckman, Rachel Carns, Eli Robinson, Courtney Trouble, Dana Clark, Julianna Parr, Liz Brodsky, Eli, Homoland Security (Larry Laveen, Samantha Chandler), Pat Maley, Lois Maffeo, Alex Crousnillion,  Devon Devine, Holly Holbrook, Kate Longley, Chelsea Starr, Billie Belo, Jade Brooks, Michael Hyde, Jacob Vaughn-Gushue Jessie-Susannah, Janna and Jules Valencia, Lorin Murphy, Avery Hudson, Seth and Anna for housing me for months at a time, and sooooo many more people who helped out along the way, I'm sorry I can't fit everyone here.    
I feel so fortunate to have the memories of the festivals, the hugs from strangers who became friends, the notes of thanks people slipped me, the people who contributed who are still in my life.  It's all very precious and dear to me.  If you helped out or came to a festival or performed or showed your work or donated, I just want to thank you and send you so much love.  xoxo